General Show Conditions & Information
Stalls: Regular Stall fees are $175 for the entire show or $50 per night. All stalls in the main barn will be full price regardless of the number of nights used. Stalls by the night will not be assigned in the main barn. Feed and bedding available for purchase on the grounds. Feed and bedding are available for purchase on the grounds. Preorder shavings to have them delivered to your stalls. Shavings splits and changes to shavings orders must be made in the show o ce on the day you arrive. Refunds will be made for any unopened bags that are returned.
Stall Front SponsorshipA total of 28 aisle front sponsor stalls are available on a first come first served basis.  Aisle fronts ARE NOT available except as listed. Includes stall front only and does not include attached stall.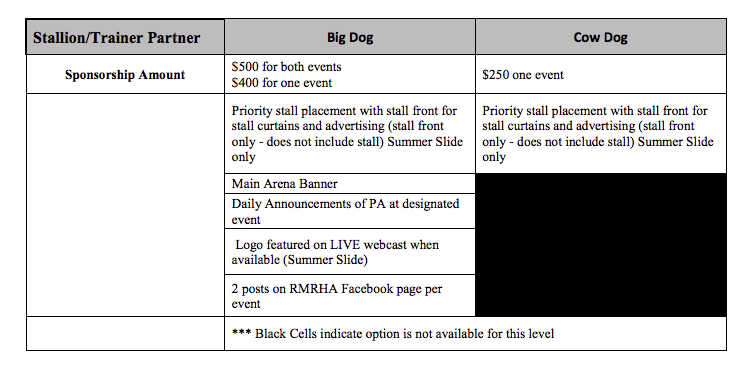 Office Charge: There is a $30 office charge per head for all horses entered in any class.
NRHA Drug Fee: $7.00 per horse
Video Fee: $7.00 per run
Arrival and Check-In:   Arrival on the National Western grounds is absolutely restricted until after 7:00 a.m., Saturday, July 21. Office opens at 9:00 a.m.
Health Certificate:  A 30 day Health Certificate written by a veterinarian at the point of origin to be presented upon arrival at the National Western Complex. Health Certificate must accompany each horse.
RV Hookups: A limited number of hookups are available .  Electric only at a cost of $35 per night on the hill, and $40 per night on the chainlink fence.  Due to the limited number of available spaces, reservations are strongly encouraged and will be assigned on a first come, first served basis. Hookup fees will be added to your show tab.  Pump out service will be scheduled half way through the show and will be added directly your show tab (estimated cost $40.)  All spaces, 30 amp.
Dogs: No dogs are permitted on the National Western Complex grounds.  The City and County of Denver Code Enforcement Officers are able to write tickets to owners for any dogs found on the grounds of the National Western Complex.
Release of Liability All participants are fully aware, completely understand and accept that participation in the RMRHA Summer Slide (the"Event") whether as a contestant, employee, volunteer, exhibitor, sponsor, or spectator is dangerous and the events and that the events and activities associated with, relating to, arising out of and concerning this participation present substantial, serious and real risks of personal injury or death to the undersigned participant and the loss of, damage to, or destruction of the undersigned participant's personal property. Under Colorado Law, an equine professional including RMRHA , is not liable for an injury to or the death of a participant in activities resulting from the inherent risks of equine activities, pursuant to section 13-21-119 of the Colorado Revised Statutes. All participants by entering this event fully and completely assume these substantial, serious and real risks whether or not apparent, known, unknown, foreseen, unforeseen, present or contingent, and the design or designing, staging, supervising, maintaining or in any way presenting, conducting or sponsoring the Event. By entering this Event, all participants agree to waive, release, indemnify and hold harmless RMRHA, it's agents and employees from all claims, damages, losses, injuries and expenses arising out of or resulting from participation in the Event. All participants further agree to release, acquit and covenant not to sue RMRHA, it's agents and employees for all actions, causes of actions, damages or damages in law or remedies in equity of whatever kind.
This show will adhere to NRHA rules with the following additions:
Show tabs will be put in the name of the responsible party as listed on the entry form. Social Security number or tax ID must be provided to the show office. Government 1099 forms will be issued accordingly, unless specified otherwise at the show. Premium checks will be issued in the name of the responsible party as listed on the show tab. No changes to 1099's will be permitted after the last day of the show.
A form of payment must accompany each show tab from the person listed as the responsible party in the form of Cash or personal check. $50.00 fee on all returned checks.
Class Entries will not be accepted without competition license and required association membership.
All class entries close at 5:00 PM the night preceding the class (except futurity classes, see futurity conditions). You may still enter if class is closed, however you will either go First or Last, to be drawn for you in the show office. Online entries will be accepted until approximately 1 hour prior to the start of the class. Late entries will be accepted in the show office until the start of the class.
No phone entries will be accepted. Online entries will stay open through the end of the show.
Stallion/Gelding/Mare Warm-up Class Rules: Horses must be of correct gender. Any horse may be shown once. May be ridden one- or two-handed in any NRHA legal bit or NRHA legal snaffle or hackamore. No training equipment allowed in the show arena. Time limit to be determined per the number of entries. Will be timed by the announcer starting when the horse has walked through the gate. Exhibitor will be excused from the arena at the end of the allotted time.
If a competitor enters more than one class that does not run concurrently, the competitor will be required to show in each class
Class drags are determined pursuant to NRHA rules and as determined by show management. No changes to the assigned drags will be made after class draws are finalized.
Little Kids Reining Guidelines:  a.  A pattern will be posted for this class. b.  Limited to kids ages 5 through 10.  c.  Adult may assist, leading horse through the pattern is acceptable. d. Fan involvement encouraged; judges may give extra credit for large fan club noise. e. Kids entering short stirrup class are not eligible for Little Kids Reining.
All prizes are awarded on an as is basis and are non-refundable.
All decisions of the judges are final.