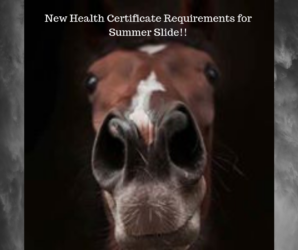 Due to the current confirmed cases of Vesicular Stomatitis in CO & on the advice of the Show Veterinarian, RMRHA will require all horses stalling on the National Western Stock Show grounds during Summer Slide to have a 5 day health certificate producible upon arrival.
Protecting the health of your horse and other horses at this event is of the upmost importance to event management. We are implementing this biosecurity measure to decrease the risk of infectious disease agent introduction and spread at this event.
We truly want you to not only enjoy the show but also leave with healthy horses. We understand this is an additional cost to you and an extra step to be completed before hauling. However, we also feel it's in the best interest of our horses, those traveling in from out of state, and the horse industry in general.
Click HERE for the latest release from the Colorado Department of Agriculture.
Veterinarians from Vetwerx Equine will be on hand starting at 10:00AM (earliest arrival time) on Monday July 22. All trailers will need to enter thru the designated gate and horses and health papers reviewed by the veterinarian or their agent before entering the barns.
Additional details will be emailed and posted to our Facebook page as we get them.
Contact RMRHA President Travis Chapman with any immediate questions.
Additional measures you can take once you've arrived to mitigate the spread of ALL diseases:
Limit direct contact with other horses and people. Do not allow the horse to touch noses with other horses while in the warm-up or collecting rings. Do not allow visitors to touch your horse.
Use specific buckets for each horse only for feed and water. Label the buckets with the horses' name so there is no cross contamination with other horses. Use a specific halter for each horse, clearly labeled.
DO NOT SHARE- buckets, halters, lead shanks, bridles, or tack between horses. IF YOU MUST SHARE – scrub and clean equipment with detergent and dry completely between shared use.
When filling water buckets, DO NOT dip the end of the hose in each bucket. Hold the hose above the water when filling.
Do not allow the horses to drink out of communal water tanks.
Use different wheel barrows for cleaning stalls and feeding horses
List courtesy of USEF
Thank you for your understanding! We hope this is the best Summer Slide experience ever!