Things to do in and around Denver
Looking for what to do in Denver? When you wake up in Denver, adventure awaits. Explore the city's greatest spots. Get local Denver tips on attractions, activities, scenic sightseeing, biking and tours, golf & other destinations. Whether you're a local, here for the weekend or more than a week, discover the best things to do in Denver.
Youth Meeting Area
The youth will have their chill hangout and meeting area again this year. National Western has been kind enough to donate two stalls for us to use. Stay tuned for the location of these stalls. Come relax with your friends and meet new friends.
Youth Raffle
The youth will be holding a raffle all week during Summer Slide
Tickets are $5/ticket or $20/ 5 tickets
Prizes include:

A custom painted straw hat by Kate Shockley (gift certificate to purchase a straw hat included)
A show pad of your choice from Equine Oasis
Tack donation from Kyle Tack
Gift certificate to Flat Hat Rags for an embroidery of your choice
And more!

The winners will be announced during the drags of the Platinum Performance Open Futurity Finals (must be present to win)
Youth Meeting
Thursday, July 25
There will be a mandatory meeting for RMRHyA members following the youth class on Thursday the 25th. We will be discussing the fundraisers for Summer Slide. The meeting will be held in the chill room, which will be located near the prize office. Again, this meeting is mandatory so please make it a priority to be there! Thank you and good luck to everyone!
Exhibitor Party
Saturday July 27, Approximately 6:00 PM
The RMRHA Exhibitor Party has become a tradition enjoyed by all.  The party is sponsored by RMRHA, and hosted by Neil Miller and friends.
Equine Oasis Futurity Calcutta
During the Exhibitor Party
The futurity team Calcutta auction will be held during the exhibitor party.  Teams to consist of Non Pro and Open horses and will be drawn at random prior to auction.
Youth Dessert Auction Fundraiser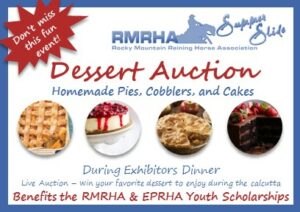 Saturday during the Exhibitors Dinner – Bid on a dessert to support the RMRHA and EPRHA Youth Scholarships!
Majestic Metals Little Kids Reining
Sunday, July 28
Calling all future Summer Slide Futurity Champions!  The little kids reining provides an opportunity for the youngest to compete at the Summer Slide.  This is always a favorite event at the summer slide with local trainers as announcers and judges.  Entry forms available in the show office.
Little Kids Reining Guidelines:
All Awards are handmade by Majestic Metals and donated by Chip and Terri Roberts
A pattern will be posted for this class.
Limited to kids ages 5 through 10.
Adult may assist, leading horse through the pattern is acceptable.
Fan involvement encouraged; judges may give extra credit for large fan club noise.
Kids entering short stirrup class are not eligible for Little Kids Reining.